How much is the construction cost per sqm to build a house in the Philippines? (2023 Updated)
Photo Credits; Roderick Abad/Business Mirror
Everyone dreams of having a house. A place where we can relax, rest and unwind. A shelter that binds family and friends together. A place that protects us from the elements and even danger.
There are different types of houses in the Philippines. It can be the traditional "Bahay-Kubo", the Spanish-influenced "Bahay na Bato", the American-influenced "Tsalet" "Bungalow" and the modern Townhouse. These houses developed and evolved over 100 years. Upon construction of any of those house types, house owners should always consider their budget when building their dream house.
Since the global pandemic changed, everything, even the basic construction costs. According to the latest data, the construction cost per square meter is lower than it was in 2019. COVID-19 has caused an alarming amount of people to lose their jobs. It also forced many companies out of business and into bankruptcy because they were allocated funds for important services like food or medical assistance.
As a result, there are fewer demands for construction materials and services which in turn leads to lower prices. So let's back to the question: How much does it cost to build a house in the Philippines?
Here is a quick answer by the Philippine Statistics Authority that could probably give you some ideas:
Residential and Non-Residential Construction Cost per Square Meter
1st Quarter of 2022P - Type of Constructions & Costs
RESIDENTIAL: ₱10,893
NON-RESIDENTIAL: ₱9,903
4th Quarter of 2021 - Type of Constructions & Costs
RESIDENTIAL: ₱10,900
NON-RESIDENTIAL: ₱10,679
4th Quarter of 2020 - Type of Constructions & Costs
RESIDENTIAL: ₱10,513
NON-RESIDENTIAL: ₱9,909
A general breakdown per residential property type:
Residential Construction Costs (Pesos per Square Meter)
4th Quarter of 2021 - Types of Residential Properties' Construction Costs:
Single House - ₱10,557
Duplex / Quadruplex - ₱11,393
Apartment / Accessoria - ₱8,646
Residential Condominium - ₱19,020
Other Residential - ₱12,504
4th Quarter of 2021 - Types of Commercial Properties' Construction Costs:
Commercial - ₱10,148
Industrial - ₱9,680
Institutional - ₱13,174
Agricultural - ₱4,995
Variation of Construction Cost per Region
It turns out that construction costs vary depending on where you plan to build. Regional differences in construction costs are caused by material availability and possibly by local regulations.
Residential Construction Cost in Different Regions (Pesos per Square Meter)
National Capital Region - 15,252
Cordillera Administrative Region - 11,279
Ilocos Region - 10,711
Cagayan Valley - 9,875
Central Luzon - 9,737
CALABARZON - 10,922
MIMAROPA Region - 11,209
Bicol Region - 11,471
Western Visayas - 13,032
Central Visayas - 10,273
Eastern Visayas - 9,689
Zamboanga Peninsula - 9,760
Northern Mindanao - 5,428
Davao Region - 9,524
SOCCSKSARGEN - 7,835
Caraga - 7,963
Autonomous Region in Muslim Mindanao - 8,430
For details you may check the PSA-table excel file specified below:
Remember that these are only estimates; they are NOT the actual construction costs. However, these figures provide valuable insight into how much it would cost to construct a house or other structures!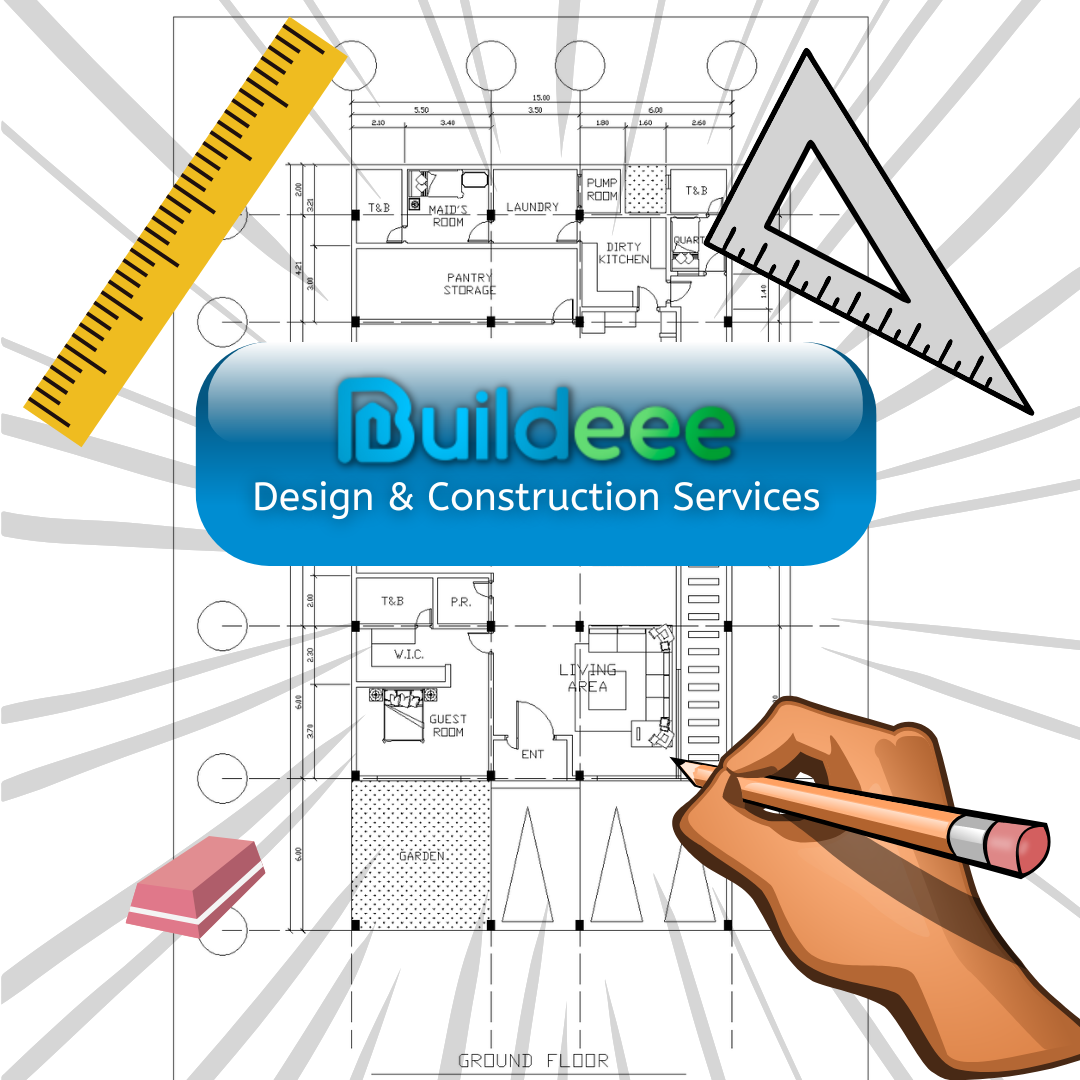 The closer estimation cost of construction is generally computed in two ways. The first is through detailed estimating and the second is through the area method.
Detailed estimating refers to the process of deriving the total cost by computing the quantity of each item of work and their equivalent materials and labor cost (with the support of Construction Takeoff software applications such as Stack, Square Takeoff, or Planswift). Before the cost-estimation process can begin, a plan must be prepared, which is a clear determination of what types of finishing style to be made, whether Rough finish, Basic finish, Semi-Elegant finish, or Elegant finish, would vary the material types and quantity to be used! It is the more accurate method of computation and usually arrived at a lower cost than the area of method. This method is preferable because it forces the contractors or house builders to define all of the required construction details and prevent disagreements during the progress of construction work.
Read more: How To Calculate Concrete Slab Usage and Cost
Estimating through area method is the faster way to derive the cost of construction. The contractors only need to get the required floor area and they can derive the total cost of the building by multiplying it by the cost factor which may range from as low as Php15,000 per square meter and as high as Php25,000 per square meter for a decent livable building. The cost factor that the contractors will use depends on the specified requirements of the client and some other factors that he may consider as relevant in the costing method. However, it cannot accurately compute the cost impact of different factors such as the number of rooms, number of windows, number of toilets and baths, the height of the structure, types of finishes, type of fixtures, and other factors that affect the cost of house construction.
Because of these limitations, house builders are forced to put a relevant markup to their estimate to ensure that the cost will be enough or higher than is actually required for the building construction and thus arriving at a higher cost compared to the first method. The area method is advisable to only be used for budgeting purposes, using this method for contractual purposes is highly discouraged because it may result in unresolved disagreements during the progress of construction which may lead to abandonment or stoppage of the construction projects and may end up in a legal battle.
There are six (6) things needed to provide a detailed cost for construction according to Reliable Home Builders:
1. Your lot's soil topography determines if cut and fills are needed.
2. Subdivision's bonds and extra cost.
3. Check the availability of electricity and water supply, the drainage system, and other utilities.
4. Check the accessibility and logistics
5. Check the nearest or available hardware store
6. Skilled work rates. These factors are necessary in order to determine the budget or a cost that is applicable to your house construction.
The amount of your house varies on its design, its size, the materials to be used, and the amount of labor. In 2022, according to Trading Economics, the housing index in the Philippines increased to Php12,232 per square meter in the 2nd quarter of 2019 from Php10,261 per square meter in the 1st quarter of 2019. The average cost per square meter of residential-type construction increased to Php10,898/sqm in the 3rd quarter of 2021 from Php10,828/sqm in the 2nd quarter of 2021.
(Updated 2023)
According to the Philippine Statistics Authority, the construction cost per square meter in the Philippines in 2023 is estimated to be around Php 11,232.88. This cost includes building, electrical, mechanical, plumbing, and other associated costs, and can vary depending on location, materials used, and other factors.
Source: https://www.moneymax.ph/personal-finance/articles/house-construction-cost-philippines
The following are the corresponding amounts per square in constructing a house according to other construction companies:
According to the Construction Cost Handbook of Arcadis, a global construction consultancy service provider. Just a few notes for the cost data updated to the 4th Quarter of 2021. The "total" construction cost is the sum of the "building" and "services" costs. Building refers to construction services and materials, while services refer to electrical, mechanical, plumbing, and other services.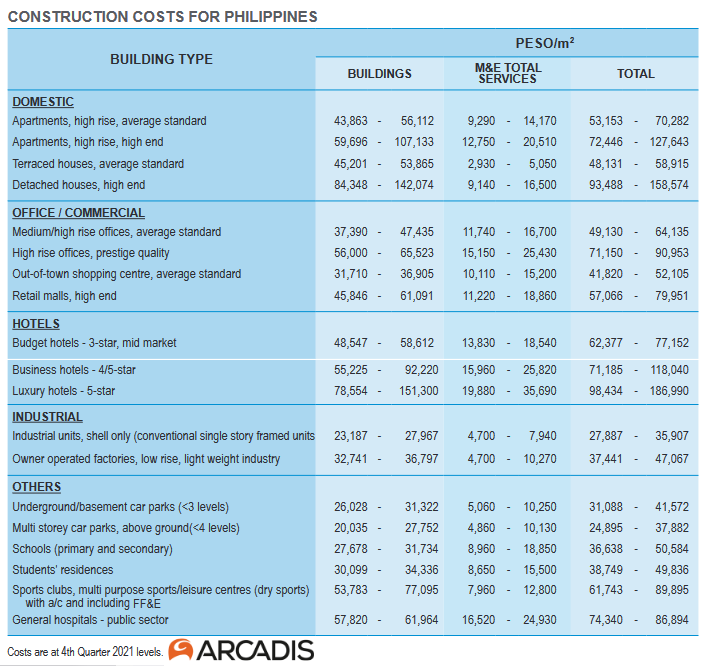 For infrastructure-related and non-residential construction costs in the Philippines, you may check the Riders-Digest 2021 report, which provides a very comprehensive breakdown of construction and services cost data.
Estimation vs Real Figures
Consider the construction costs per square meter presented by PSA and Arcadis.
In that case, you'll notice that the values are quite dissimilar. Why is this the case?
One possible explanation is that PSA consolidates all data from across the country. All costs are averaged, from low-cost or bare-bones construction projects to high-priced and high-end projects. Companies like Arcadis, on the other hand, could base their data on previous projects. These firms would also include their overheads (which vary by company) in the construction cost.
There are numerous factors to consider when building. Cost should be one of the first things to consider. In reality, the true cost of construction will not be known until the project is completed. However, it is preferable to have an estimate of the potential construction costs.
Based on the information above, it is safe to assume that the baseline construction cost would be Php 28000.00 per sqm for a descent style finishing...yet, it would typically take around six (6) months to finish a house construction. It is also possible to finish earlier depending on the design and size of the house. You can also add more manpower however it would increase the expenses. Seeking advice or suggestions or hiring an architect or engineer would be better for you to know what's the best plan and action in building your dream house.
When building a house, always remember that this will be your home. Make sure to get the best value for your money upon its construction. Houses are our assets, it's our lifetime investments that you need to be very careful on choosing the right house contractors!
Contact Us For Free Consultation Now! Feel free to compare and quote, have a meeting with us, get to know your contractors, and don't hesitate to ask! Buildeee is always here to help and get you the best home contractors that we know well and have had good projects experienced before!
See Also...
How to Get a Building Permit in the Philippines?
ProsTalk EP55 with King & Graido Law: On Land Transfer of Ownership and On Buying Properties