How To Become a Real Estate Broker In the Philippines?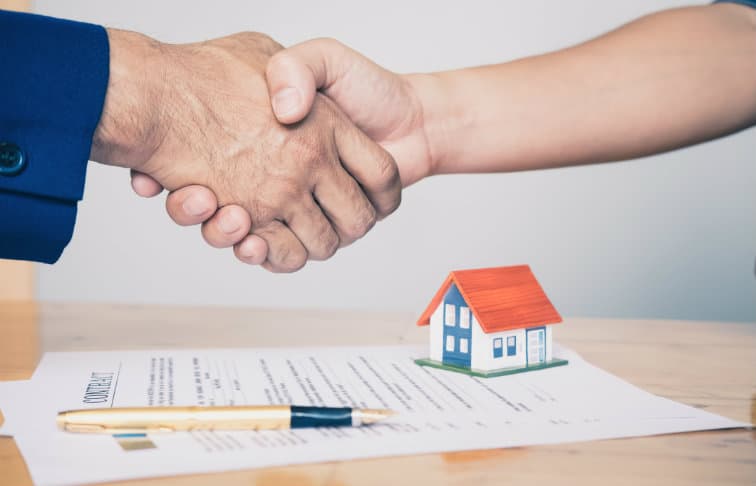 Real estate is a thriving industry in the Philippines. Despite market anomalies, the pandemic that forced many sellers to remove their properties from the market, and lending rates reaching a new low, Filipinos continue to find real estate a lucrative and rewarding career choice.
Real Estate Broker vs. Real Estate Agent
A real estate broker negotiates and coordinates real estate transactions. This licensed individual's daily responsibilities include writing contracts and supervising home, land, and commercial property sales and purchases transactions. A broker has a higher license level than a real estate agent and can hire agents to work as a team under their supervision.
A real estate agent assists his or her clients in the purchase, rental, or sale of real estate. They advise clients on market conditions, conduct walkthroughs, and offer guidance and assistance throughout the buying, selling, or leasing process. As a real estate agent, you will be handling negotiations between both parties as well as taking care of the details to ensure that all real estate transactions are completed properly.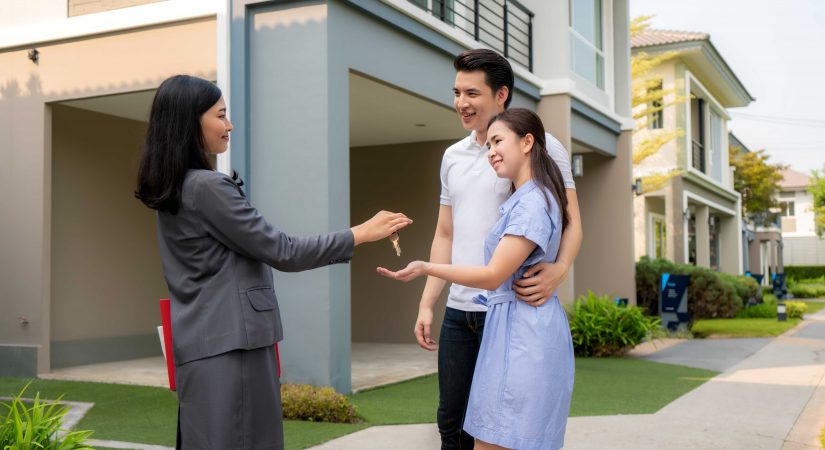 Photo source: All Properties.com
How to Become a Real Estate Broker in the Philippines?
Real estate brokers must be prepared to keep up with the constant changes in the real estate industry, which is why real estate career courses are available. Following completion of such courses, real estate brokers must apply for the necessary licenses and certifications, such as the Professional Regulatory Commission (PRC) license and the Housing and Land Use Regulatory Board (HLURB) license.
Step 1: Get a degree in Real Estate Management
Before you take the examination for the License, you need first to take up Real Estate Management courses as a prerequisite for the position. Here is the list of universities that offer real estate management courses:
Luzon
Adamson University
De La Salle-College of Saint Benilde
Manila Business College Foundation
Pamantasan ng Lungsod ng Maynila
Trinity University of Asia
Philippine Christian University
Lyceum of Alabang
ABE International Business College – Available in Las Piñas, Lucena, and Cainta Campus
AMA University
Visayas
University of San Carlos
University of St. La Salle
Central Philippine University
ABE International Business College – Iloilo Campus
University of Cebu
Saint Paul School of Professional Studies
Guimaras State College – Main
Santa Isabel College of Iloilo City
Hua Siong College of Iloilo
Mindanao
Saint Joseph Institute of Technology
Xavier University (Ateneo De Cagayan)
University of Mindanao
Saint Columban College
Southway College of Technology
New Era University- General Santos City
VMC Asian College Foundation
Misamis University
Golden State College
Southpoint College of Arts and Technology
There are also schools that offer online courses, to know more about them, visit the link below:
OEd, formerly known as AMA University Online Education, is the first school to offer online courses in the Philippines (https://oed.com.ph/academic-programs/bachelors-degree/bachelor-of-science-in-real-estate-management/)
Southville https://www.southville.edu.ph/online-bs-real-estate-management/
After obtaining a BS REM degree you can now apply for certification in the Professional Regulation Commission (PRC).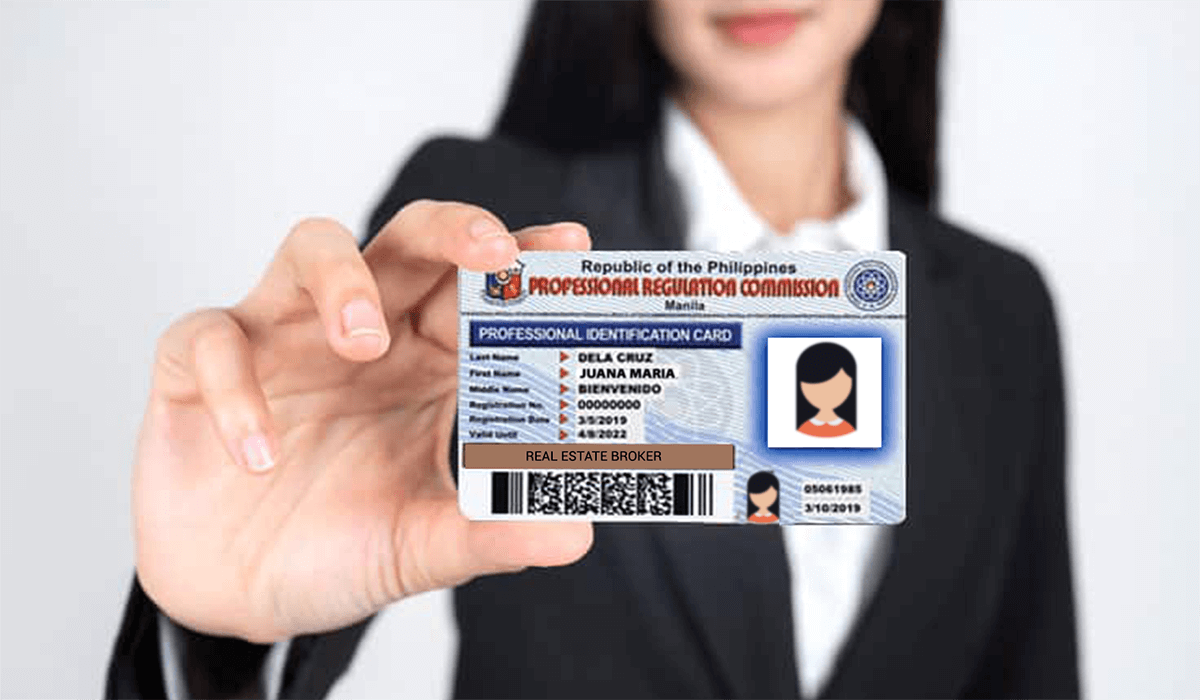 Photo from: Lumina Homes.com
Step 2: Register in PRC
You must meet the following qualifications before you can take the Real Estate Licensure Examinations, according to the PRC:
Must have completed the required 120 hours of Continuing Professional Development (CPD) at an accredited real estate service training provider.
PRC exam application form (you can also visit PRC's official website to apply online)

Good moral character as proof of not having been convicted of any crime

Diploma in Real Estate Management
Transcript of Record (TOR)
NSO/PSA Birth Certificate or Marriage Certificate for female applicant
Valid NBI clearance
Community Tax Certificate
4pcs Passport Photo
Examination fee of PHP900.00
Step 3: Pass the Licensure Real Estate Exam
You are one step closer to obtaining your real estate license! The date and location of the exam will be posted on the PRC's official website once your application has been approved and processed. After passing the Real Estate Licensure Examinations, you will need to submit a new set of documents like:
Photocopy of Birth Certificate
Clearance from The National Bureau of Investigation (NBI)
Community Tax Certificate
Four Passport-Sized Pictures
Step 4: Register at the House Land Use Regulatory Board (HLURB)
To obtain your HLURB Certificate of Registration and a real estate license, you must fill out and submit the following forms:
Accomplished Application Form
One photocopy of a 2×2 ID picture
One photocopy of the latest PRC License (ID and certificate)
One photocopy of O.R. and surety bond
One letter of endorsement from the employer (must be a licensed broker)
One photocopy of the latest PRC and HLURB certificates or company ID of the employer
Php 288 for processing fee
Php 1,000 cash bond (subject to change without prior notice)
A career in the Philippine real estate industry could be ideal for you. Real estate brokers have a significant impact on the country's housing industry because they determine which housing brands and types of houses for sale in the Philippines are the best options.
Other information that you need to know
Executive Diploma Program in Real Estate Management: (Renewal) For now, PRC requires a BS-REM degree to qualify for the Brokers exam. The EDPREM Course is for Renewal of Licenses only.
The Best School Recommendation:
Trinity University of Asia (Quezon City) - You may access the link below to view the successful examinees who garnered the top (10) places in the recently conducted April 2022 Real Estate Broker Licensure examination. TUA(QC) produces most number of topnotchers real estate broker!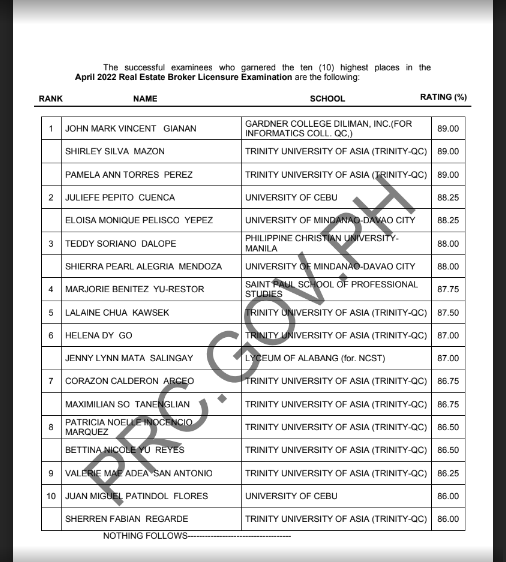 Congratulate to the Trinitians! Click Here to view in PDF format
References:
https://www.vistalandinternational.com/blog/How-To-Become-a-Real-Estate-Broker-In-the-Philippines
http://finduniversity.ph/search.aspx?sch=1&ca=156
https://www.lumina.com.ph/news-and-blogs/blogs/list-of-schools-offering-real-estate-courses-in-the-philippines/
Buildeee Recommended Video: