Interior Design Trends for 2023 (Updated)
Many people's lives have drastically changed during the year 2023 and people are now wandering on the opportunities that this brand year may have offered to the table.
Brand new year has come and the ideas of reinventing and renovating our homes are overflowing. Interior design trends for houses have been the most talked about topic in the construction industry.
The color of the year for 2023 for interior design is Vining Ivy from Glidden and PPG, It is a bluish-greenish shade or blend of gray and beige with subtle red undertones. It pairs well with trending earth-tone paint colors. Other popular colors include Amber, Raspberry Blush, Indigo, Peppery, Goldfinch, Kale Green, and Fabulous Fuchsia.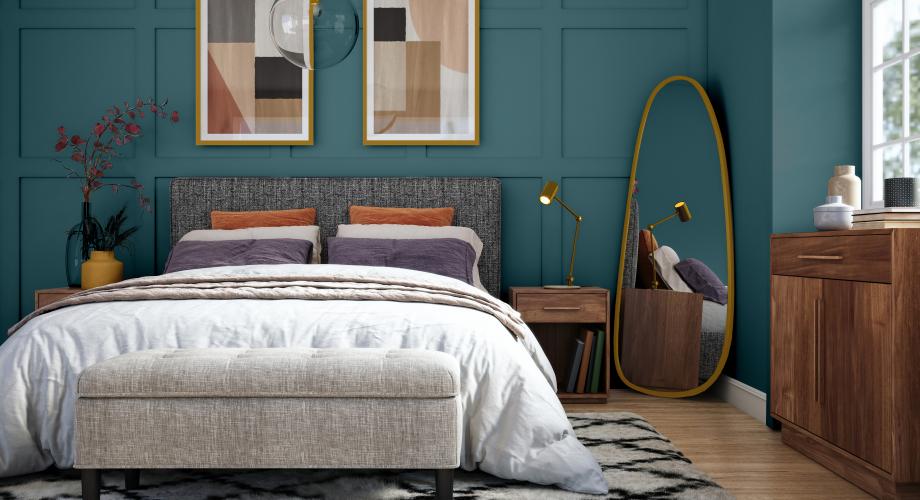 Below are the list for more interior design trends that you can try on your home to give it a fresh start.
VINTAGE
A comfortable, elegant, romantic style of apartments, homes, office, or shop vintage interior design is restraint, elegance, and antique atmosphere, fun and for a long time as if familiar.
In a vintage scheme, antique, repurposed, salvaged and retro parts all have their place. Instead of reproducing it slavishly, the trick is to reference the look, using powerful colors, favorite pieces and a less-is-more technique for a vivid, seamless aesthetic. Providing plenty of contrast is the key to this strategy.
Build up a vintage-style framework slowly. It's the kind of look that takes layering in order to select pieces that mean something to you over time. To build a modern note, add a few luxury elements, such as rich fabrics and statement lighting.
OCEAN HUES
For the year 2021, ocean blues are a main color trend. Blue is the ideal color for building a peaceful house, ranging from deep inky tones through to light aquas.
Mixing ocean hues with modern colors can give you a relaxing blend of style and charm.
CLASSIC TRADITIONALISM
Classic traditionalism adds a sense of peace and order to every living room, with a fully functional decorative scheme. A timeless phenomenon influenced by the 18th and 19th centuries that combines classical art, antiques and historical objects.
Having a classic-traditional kind of interior provides symmetry, which can be seen in soft furniture embracing ornate scrolls, courtly stripes and classic damasks.
HOUSE PLANTS
In cultivated greenspaces, many individuals enjoy living and working, and most prefer getting beautiful plants around.
In the 1990s, indoor plants briefly fell out of fashion, but we are pleased to say that they are back. They are not just beautiful but it also adds vibrancy and color to our homes. It refreshes air, filters contaminants and releases oxygen.
Social media trends are known for rapid flourish-and-fad life cycles, because of the many ways houseplants promote health and well-being, indoor gardening can survive longer than others.
Beautiful blooms that you can add to your interiors this brand new year!
OUTSIDE BEAUTY
In architecture, it is not just the inside that matters, outside too. The accentuation of natural elements on the outside of your house, from flora and fauna to private plants, stonework, and water features, allows a much more welcoming environment for your potential visitors and a perfect place to retreat.
Flowers and plants add so much beauty to every space they reach. But gardening can also be calming and teach transparency beyond aesthetic merit, while plants themselves purify the air and enhance the vibes. Putting up plants should not be limited to wide open outdoor spaces and massive greenhouses, considering the advantages of gardening.
EARTHY-GROUNDED SHADES
You should never shy away from picking a good color scheme for your house. A neutral color scheme needs something to be said. An almost spa-like atmosphere that exudes relaxation and makes both residents and visitors feel safe and relaxed can be produced with the right earth tones.
An earthy-grounded shade home is as soothing as an oasis that is ready to provide its inhabitants with a soft landing spot, from plain wood flooring to the classic use of natural light to neutral furnishings.
Picking swatches reminiscent of the outdoors makes for a relaxing home, from rich reds and tans to enticing cool grays and beiges.
YELLOW AND GRAY
For the second time in 22 years, Pantone chose ultimate gray and illuminating yellow.
They define the selected colors as separate but complementary, reflecting a theme of unity and mutual help. These colors were independent on its own and having it combined may unfold a message of strength and hope which is very vital this year. Both colors are lasting and uplifting that it can become a focal point of interior design for your home.
In architecture, this palette mixing playfulness and solemnity has been used to express common concepts of resilience and positivity in social, domestic, care spaces, and more.
RUSTIC THEMED HOUSE
The term rustic is pretty general, but it can actually fall into several distinct design types. Rustic defines a design that is natural, rugged, aged, and casual in its most simple sense. Some involve Tuscan, marine, cottage, or what you may think of as a rustic lodge historically.
A rustic-themed interior design has been a wonderful design on its own. It is a no-fuss aesthetic that reveals the appeal of dark colours, natural materials (think wood beams or touches of stone and clay), and cozy furnishings. In just about every interior, from the bathroom to the living room, this flexible design style works. And although exposed beams are definitely a good start, original framing, flooring, and brick are also worth considering.
Let's start this new year with a bang and with all the trending interior designs for your home. Visit Buildeee to get the latest updates on the built environment.
#interior design trends 2021
#interior design trends bedroom
#the latest interior design trends
#a current interior design trend
#nterior design trends house
#interior design trends blog