Tiny yet so powerful: Heatworks Tetra Countertop Dishwasher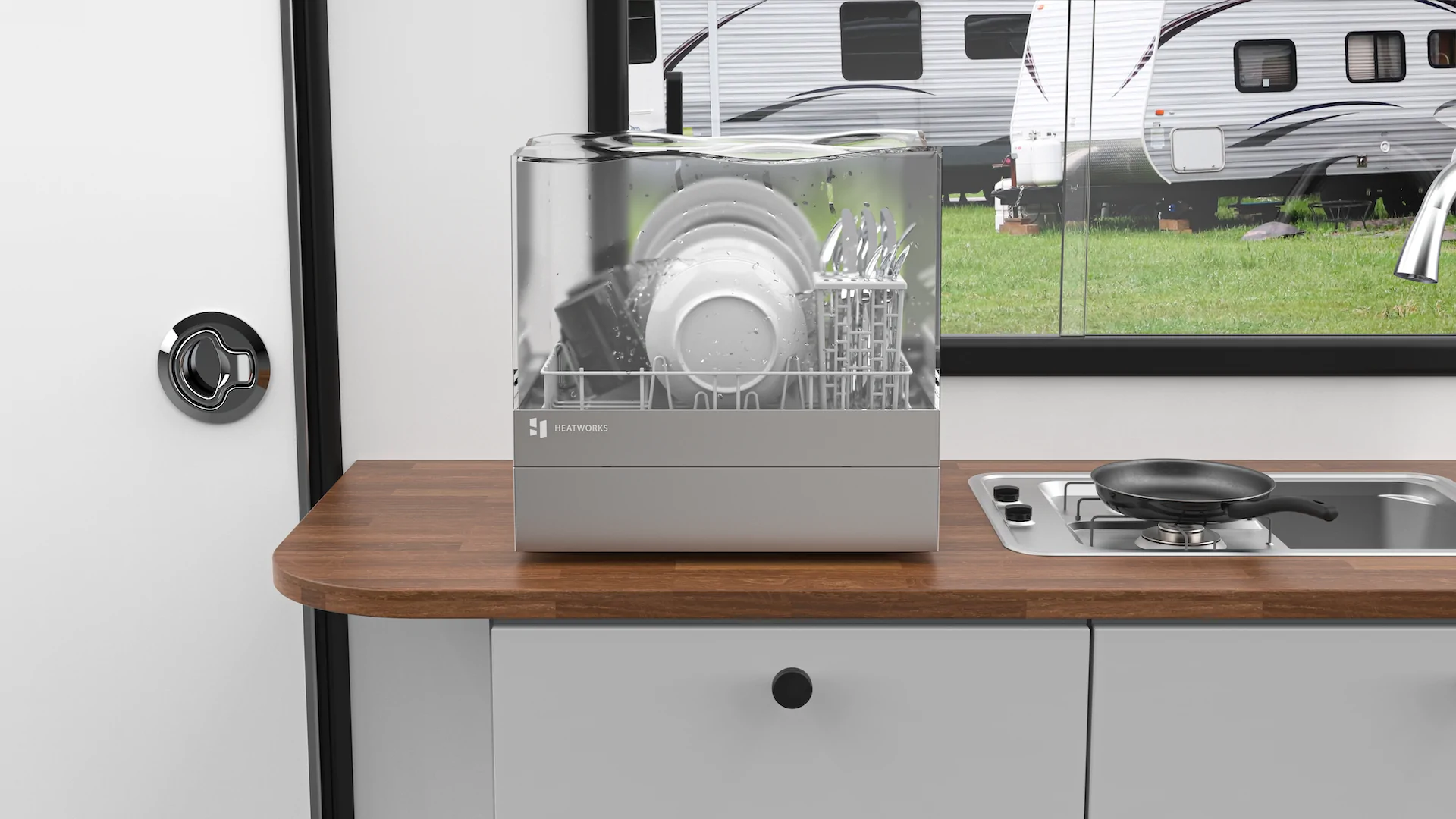 source: myheatworks.com
One argument starter is the question "who's going to wash the dishes?" Let me tell you, it will take a while before someone starts to wash all the dishes in the sink. Funny, right?
In today's generation, technology has been helping us in different aspects. It really makes the work easier. Talking about technology, this Heatworks Tetra Countertop Dishwasher is one-of-a-kind.
It is the world's only self-contained dishwasher
You don't need to fill or drain hoses. Simply remove the front door, add three quarts or liters of water, load the machine, and then choose a cleaning cycle before turning the unit on. It can be used wherever there is an electrical outlet because it is self-contained.
Best cleaning and drying performance
Compared to the top countertop dishwasher, Tetra cleans 50% more dishes in 55% less time and with 40% less water.
Environment-friendly
Over 15,000 liters of water can be saved by using Tetra to wash your dishes for just one meal per day as opposed to handwashing. Moreover, large plastic detergent containers are a thing of the past because it uses concentrated cleaning chemistry cartridges (imagine an "inkjet").
Award-winning and highly anticipated
Tetra was highlighted on NBC's TODAY Show and CBS' Innovation Nation. Tetra was also given 2019 Best of CES Award by Bestproducts.com, the 2019 CES Best of the Best Award by Best Reviews, and the title of 2019 CES Top Pick by Mashable.
How to operate?
Tetra can be plugged into any regular electrical outlet. Remove Tetra's transparent front door after a meal, fill it with three liters/quarts of water, and then fill it with up to three full-place settings. Select the appropriate cleaning setting from the following:
STANDARD for dishes such as plates, bowls, glasses, and silverware;
ECO/SHORT for quick washes;
STEMWARE for delicate items such as wine glasses or champagne flutes;
PLASTIC for items such as baby bottles and bowls that typically melt in other dishwashers; and
FRUIT/VEGETABLES for cleaning dishes such as produce and other home goods without detergent.
Tetra uses a revolutionary custom dosing and multi-chemistry cleaning cartridge system (similar to inkjet printers) that delivers the ideal amounts of prewash, enzymes, and spot removal to ensure that it cleans better than any other dishwasher (portable or built-in).
Dispose of the wash water and remove the greywater tank once your dishes have finished drying. It doesn't harm the environment.
Tetra cleans 24% better than the leading under-counter dishwasher using a premium detergent brand.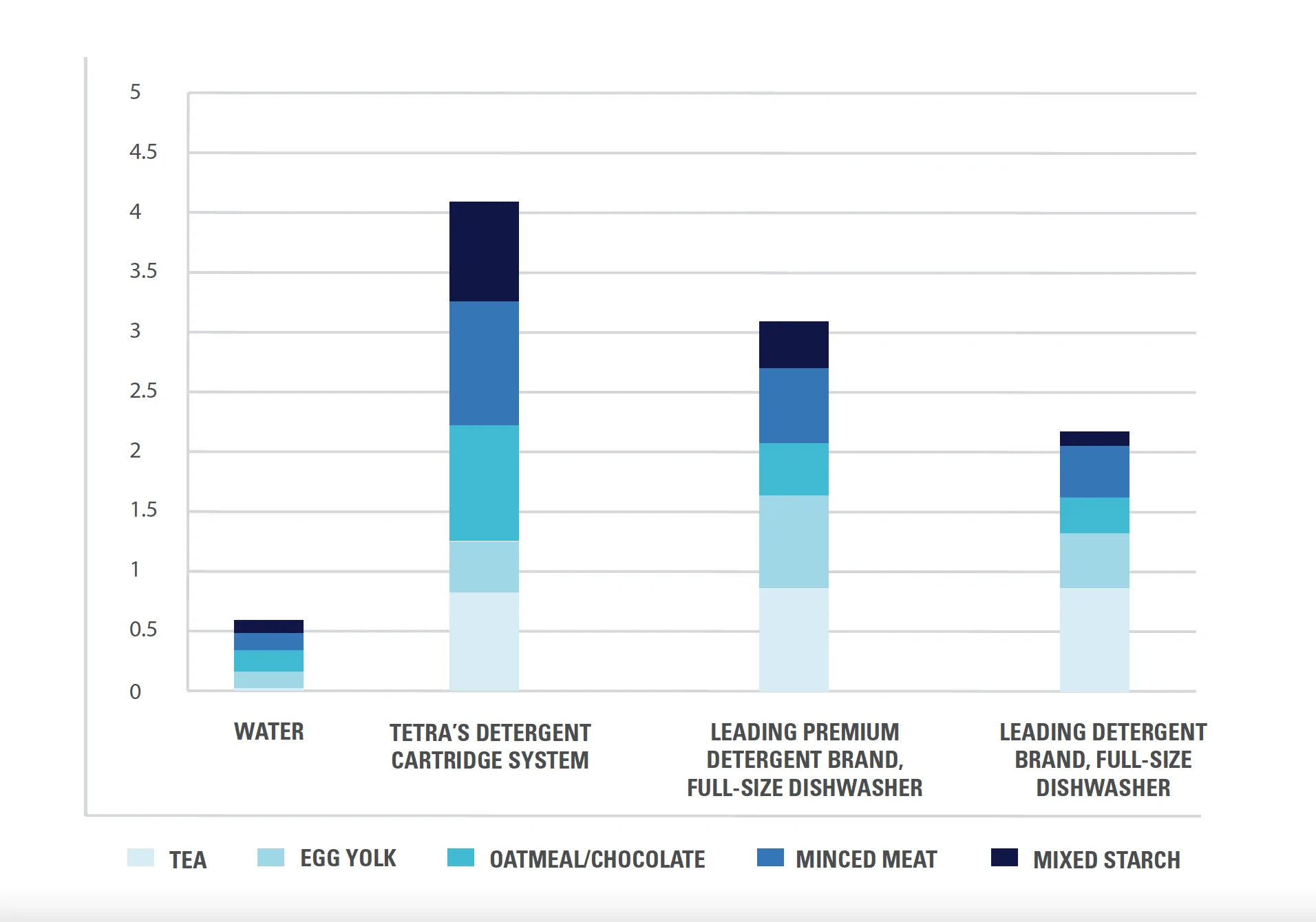 A full-size, under-counter dishwasher using a leading detergent brand, a full-size, under-counter dishwasher using a premium leading detergent brand, and the detergency scores of Tetra's detergent cartridge system are all displayed on this graph, according to Heatworks.com. A certified third-party lab conducted the testing using the Official Journal of the European Council standards.
What are the features and specifications of the Tetra Countertop Dishwasher?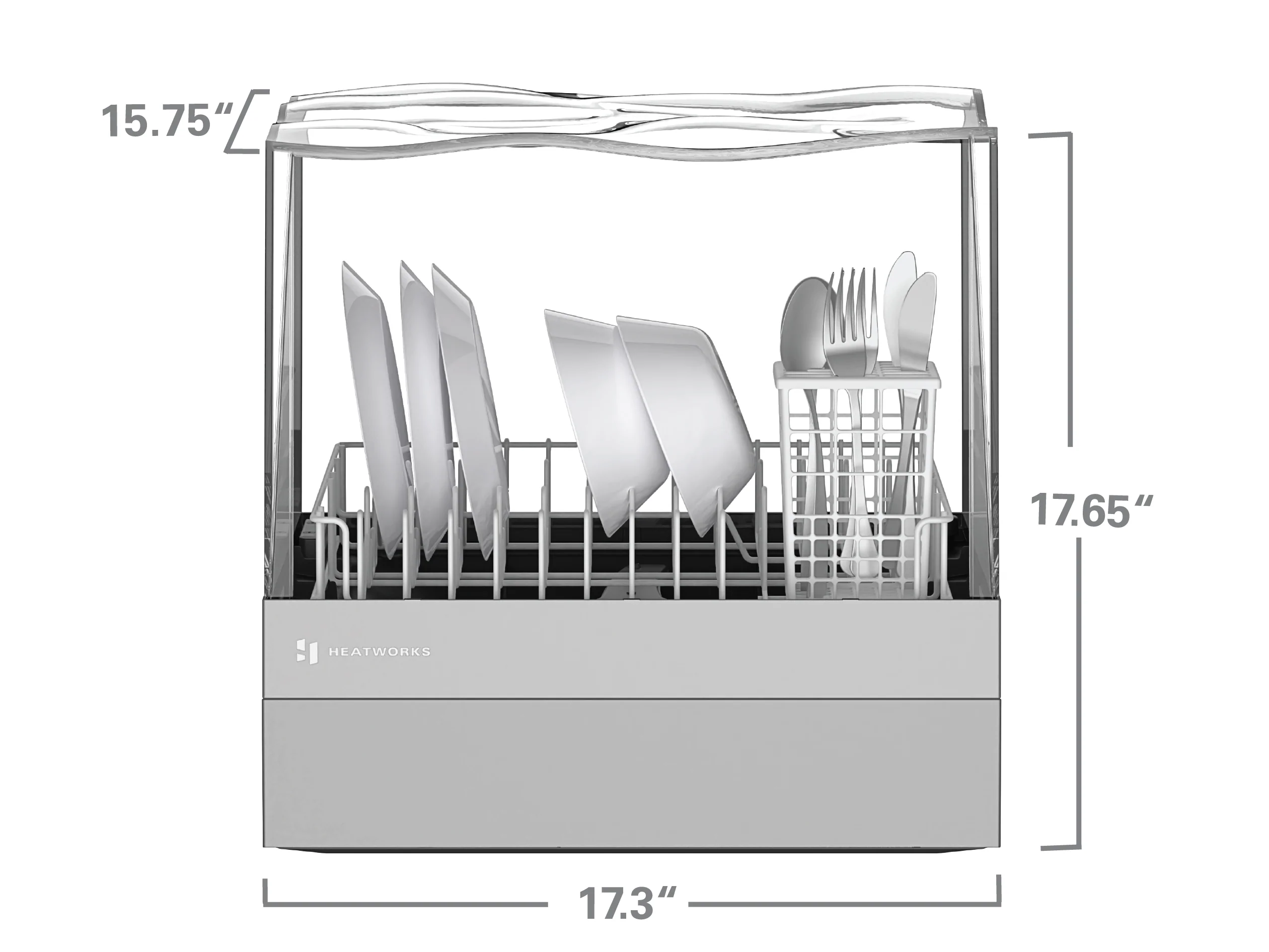 Product Information
External Dimensions = 17.3"w x 17.65"h x 15.75"d
Internal Dimensions = 17.3"w x 10"h x 15.4"d (fits 10" plates)
Plumbing Connections = None needed
Electrical = 3-prong 110-120 VAC
Weight = 25 pounds
Warranty = 1-year limited warranty
What is included in your package?
1 Tetra Countertop Dishwasher
1 standard dish rack
1 silverware basket
1 Detergent Cartridge System, good for 20+ washes
1 spatula, ideal for removing food from dishes
Safety Certifications
UL 749
CSA C22.2 No. 167
IEC 60335-2-14, CE
This Dishwasher will be your new best kitchen partner. It does not only benefit you, but it also helps the environment as it is made to reduce plastic waste, and saves water and energy as well. This is definitely a good buy. If you have more questions, just visit their website and see for yourself all the benefits of this self-contained dishwasher!