Top 40 Architecture and Interior Designer School Institutional in Philippines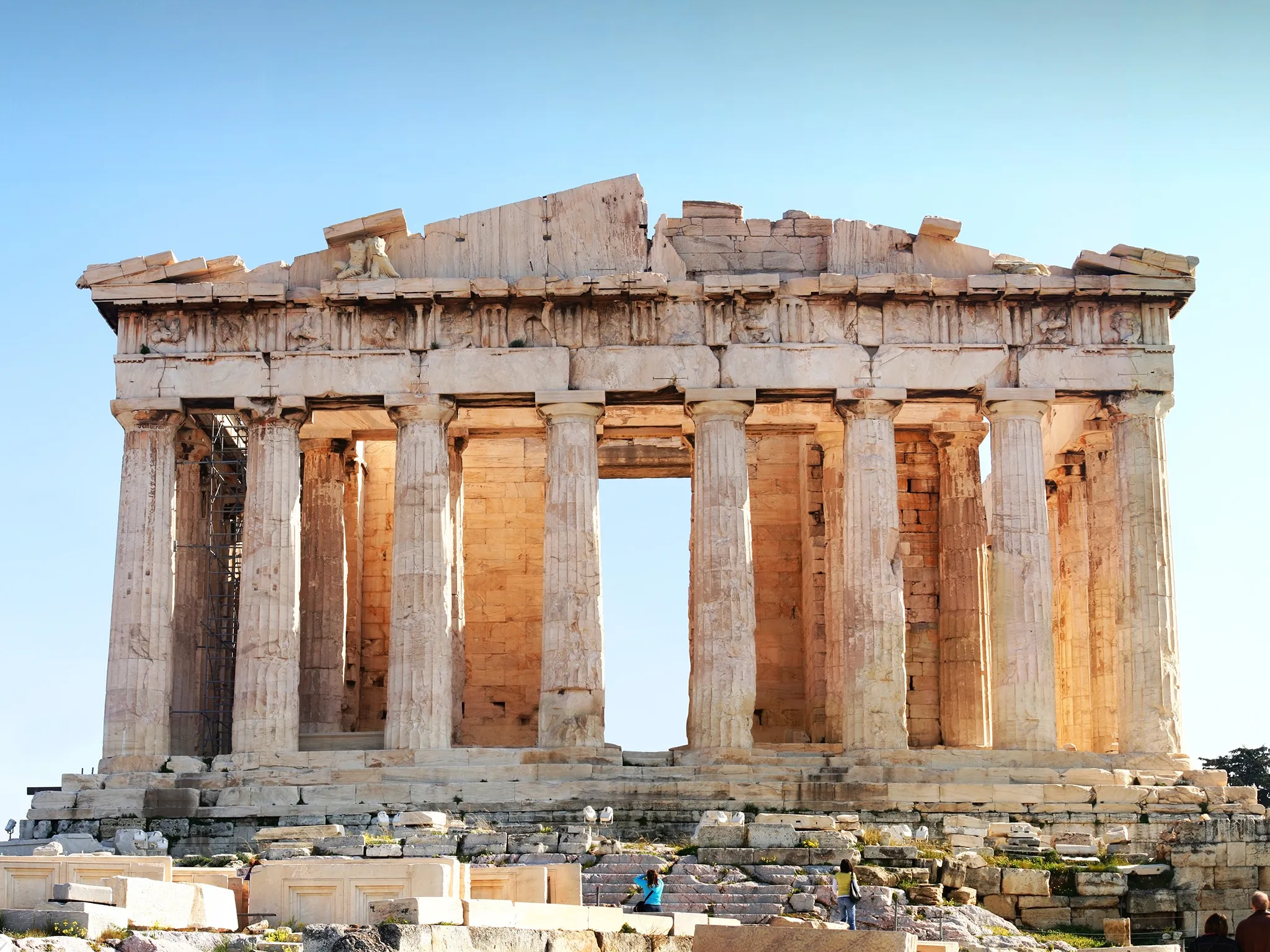 What is Architecture? Is it the same with Interior Design? I think these questions already have crossed your mind, especially for those who are interested in taking this as their future endeavor. Some Architects and Architects-to-be have different definitions of Architecture, it may be because of their experiences or background knowledge. But in general, let's know its definition.
Architecture
Architecture, despite its engineering, safety, function, climate, and economic constraints, arouses us with abstract designs in space and light. It is the profession of designing buildings, open spaces, communities, and other artificial structures and environments, usually with an eye toward aesthetic effect. Architecture frequently includes the design or selection of furnishings and decorations, the supervision of construction work, and the examination, restoration, or remodeling of existing buildings.
Interior Design
Interior designers create functional, safe, and beautiful indoor spaces by determining space needs and selecting necessary and decorative items. Many interior designers work in specialized design services, architecture, engineering, and related fields.
Schools and Universities that offer Architecture and Interior Design Programs
1. Mapúa University (Manila, Metro Manila)
BS in Interior Design

BS in Architecture
Master Course: MS in Architecture
2. University of Baguio (Baguio City, Benguet)
3. ACLC - Caloocan (Caloocan City, Metro Manila)
Certificate Course:

Associate in Architectural Design Technology
4. Adamson University (Manila, Metro Manila)
5. Holy Angel University
6.Eastern Visayas State University Tacloban (Tacloban, Leyte)
BS in Interior Design

BS in Architecture
7. Eulogio Amang Rodriguez Institute of Science and Technology (Manila, Metro Manila)
BS in Interior Design

BS in Architecture
8. Polytechnic University of the Philippines
BS in Interior Design

BS in Architecture
9. Manuel S. Enverga University Foundation (Lucena, Quezon Province)
10. Far Eastern University (Manila, Metro Manila)
11.Sorsogon State University (Sorsogon City, Sorsogon)
12.University of Mindanao (Davao City, Davao)
13. University of San Carlos (Cebu City, Cebu)
BS in Interior Design

BS in Architecture

Bachelor of Landscape Architecture

Master Courses: Major in Architectural Science, Major in Interior Architecture, Major in Landscape Architecture, Major in Urban Design

Master Courses: Master in Urban Planning
14. Rizal Technological University (Mandaluyong City, Metro Manila)
15.University of the Cordilleras (Baguio City, Benguet)
16.De La Salle-College of Saint Benilde (Manila, Metro Manila)
BS in Interior Design

BS in Architecture
17. University of the Philippines Diliman (Quezon City, Metro Manila)
BS in Interior Design

Master of Interior Design

BS in Architecture

BS in Landscape Architecture

Master of Architecture

Master of Tropical Landscape Architecture
18. University of Science and Technology of Southern Philippines (Cagayan de oro, Misamis Oriental)
19. Cebu Institute of Technology University (Cebu City, Cebu)
20. Ateneo de Davao University (Davo City, Davao)
21. St. Louis University (Baguio City, Benguet)
22. Technological University of the Philippines (Manila, Metro Manila)
BS in Architecture

Master of Architecture in Construction Technology Management
23. Technological Institute of the Philippines (Manila, Metro Manila
24. Columban College (Olongapo City, Zambales)
25.University of La Salette Santiago (Santiago City, Isabela)
26. Philippine Women's University ( Manila, Metro Manila)
27.University of San Agustin (Iloilo city, Iloilo)
28.University of Northern Philippines Vigan (Vigan City, Ilocos Sur)
BS in Architecture

Certificate Course :Certificate in Architectural Drafting

BS in Interior Design
29.La Consolacion College - Bacolod (Bacolod City, Negros Occidental)
30. University of Saint Louis (Tuguegarao City, Cagayan)
BS in Architecture

BS in Interior Design
31.Philippine Women's College Of Davao (Davao City, Davao)
BS in Interior Design

Bachelor of Fine Arts major in Interior Design
32. St. Scholastica's College (Manila Metro Manila)
33.Batangas State University - Alangilan Campus (Batangas City, Batangas)
34. University of Bohol (Tagbilaran City, Bohol)
35.SoFA Design Institute (Makati, Metro Manila)
BS in Interior Design

Certificate Courses: Advanced Interior Design Lecture Series, Basic Interior Design Lecture Series, Furniture Design Lecture Series, Program in Furniture Design
36. College of the Holy Spirit Manila (Manila, Metro manila)
37.Bulacan State University - Main Campus (Malolos City, Bulacan)
BS in Architecture

BS in Landscape Architecture

Certificate Courses:

Certificate in Architectural Interiors and Drafting Technology
38. Assumption College (Makati, Metro Manila)
39. University of Santo Tomas (Manila, Metro Manila)
40. Silliman University (Dumaguete City, Negros Oriental)
41. The Nueva Ecija University of Science and Technology [NEUST] (Cabanatuan City, Philippines)
Architecture Top schools (January 2022 Architect Licensure Exam)
The Professional Regulation Commission (PRC) announces that 1,370 out of 2,205 candidates passed the Architect Licensure Examination (ALE) administered by the Board of Architecture, chaired by Arch. Robert S. Sac and Arch. Robert M. Mirafuente
According to Commission Resolution No. 2017-1058(C) series of 2017, the top-performing schools in the January 2022 Architect Licensure Examination:

Source: Screenshot from Rappler.com
The following successful examinees received the top ten spots in January 2022 Architect Licensure Examination: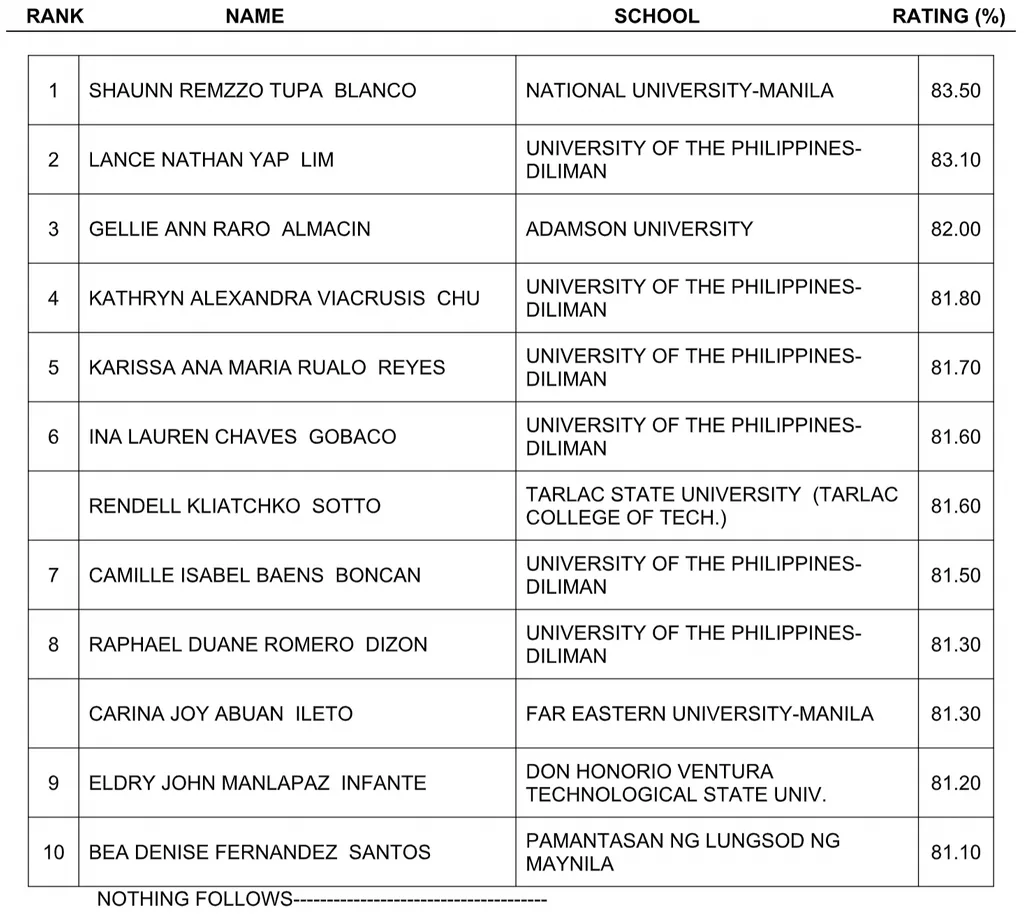 Source: Screenshot from Rappler.com
If you are an aspiring Architect or Interior designer, may you be inspired by these newly licensed Architects. We do believe in you, just trust the process and check for the Architecture Licensure Exam Requirements
Looking for other schools that aren't listed above? Click here